Arvest Bank Theatre Information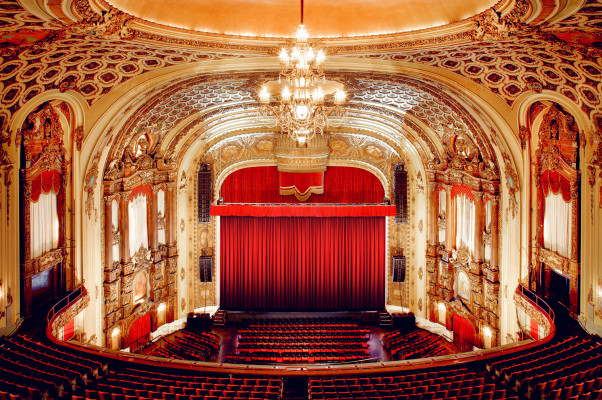 History
Arvest Bank Theatre was first built in 1927 at a cost of $4 million. At the time, it was the largest historic theater within 250 miles of Kansas City. The theatre was built to emulate the best parts of the French and Italian Baroque styles, which was a key element of architect Thomas W. Lamb, who designed the theatre.
But Lamb wasn't satisfied with creating the best theatrical interior in show business, so he designed the exterior to have a Renaissance Revival style that featured cream glazed terra cotta brick, adorned with engaged pilasters, winged figures, leaves, flowers, and other decorative elements. And all of this is brought together by the gorgeous four-story arched window that rose above a copper and gold marquee with 3,600 light bulbs.
But the theatre, then known as The Midland, closed in January 1961. It was later remodeled and reopened as an arena serving as the home for Kansas City's professional bowling team, the Kansas City Stars. But the Stars were not as successful as The Midland and they left the venue in December of the same year.
AMC Ownership
This led to AMC Theatres purchasing the Midland in 1966. At the time AMC was a small Kansas City-area regional chain that wanted to operate the venue as a movie house. They did this until 1981 where it became a performance hall that is still used today for concerts, Broadway and stage shows, ballet recitals, and other events. It's also become the annual home of the annual Radio City Christmas Spectacular over more recent years. And it has been placed on the National Register of Historic Places in 1977.
Redevelopment
Later, Kansas City's Power & Light District underwent a period of redevelopment. And because of its historic status, The Midland Theatre was chosen as part of this project.
In 2007, AMC and the Cordish Company formed a partnership to undertake a multimillion-dollar renovation of the historic venue. Since it reopened in 2008, the theatre was called The Midland by AMC. It later changed its name to Arvest Bank Theatre on September 4, 2013, after an announcement that the bank had acquired a multi-year naming rights partnership to the venue. This announcement also followed the fifth anniversary of the theater's relaunch in September 2008.
More Arvest Bank Theatre at The Midland information:
Ticket Policy:
Read about the ticket policies from our preferred ticket reseller and about their authenticity guarantees.
Seating Map:
Have a look at the Arvest Bank Theatre at The Midland seating map and learn about different seating arrangements.
Parking Information:
Driving to the venue? Read more about Arvest Bank Theatre parking options here.